OUR ANNIVERSARY IN KITCHENER
For our anniversary, we wanted to have a mini getaway just the two of us, so we packed up and headed to Kitchener. I know what you're thinking: ....why Kitchener? Well, tbh, because it wasn't too far, and we found a cool hotel to stay in. That's ittttt!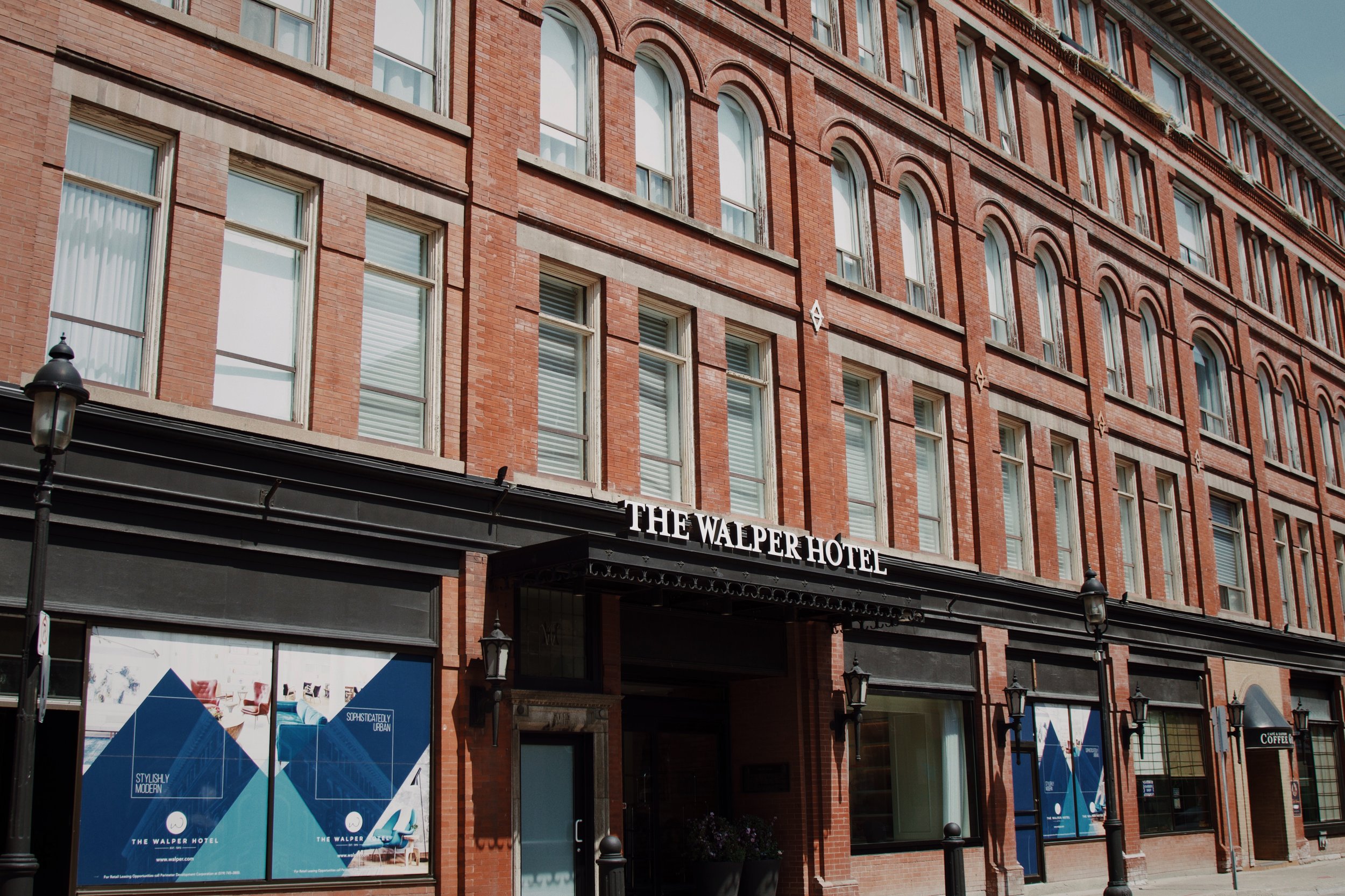 So, we stayed at the Walper Hotel in Downtown Kitchener. It's a boutique hotel (whatever that means) and it's actually really nice on the inside! They have lovely large windows in most of their common areas which light up the rooms and makes it v. photograph ready.
The suites are all stocked with your very own kettle and pour over coffee maker. They deliver complimentary coffee, coffee filters and tea right to your suite. It's pretty easy to make pour over coffee, but I was a littlllee clueless without a scale.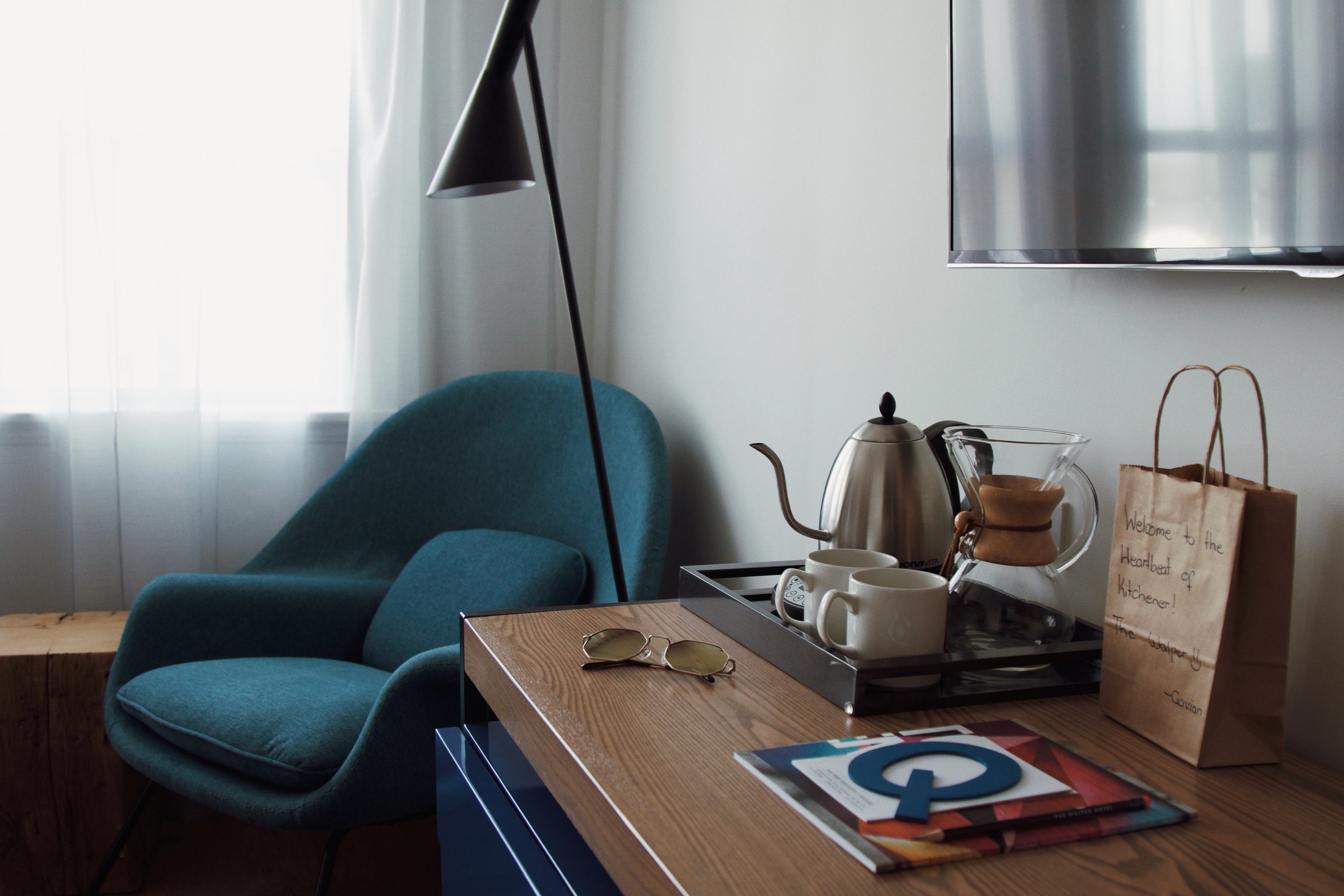 There's not tooooo much to do Downtown Kitchener, but we made the best of it haha. There are a lottt of restaurants, a cool vintage store called White Tiger Vintage Boutique, We visited The Museum, which is right across from The Walper, and it was pretty fun. It's more geared towards kids, but we still had fun. The highlight for us was prob the green screen lol.
We're both currently vegan, so we kept our eyes peeled for good vegan places. We found the Yeti, which is not fully vegan, but they have vegan options, and Cafe Pyrus which is completely vegan. The lavender peppermint lemonade at the Yeti was nummy!
I. Love. Cafes. So much. I always look for ones that look cool on the inside and that has good coffee (duh) (although I don't drink coffee anymore because I'm scared for my heart after all my health issues this year - anyway.) One of the cafes we just came across while walking around was Show + Tell Coffee. It's a pretty small place, but definitely has it's own aesthetic. Jerome got an iced golden latte, and I got an iced matcha latte. They have a dairy-free option which is an almond and coconut milk mix and is super good.
The standout cafe for us was Smile Tiger Coffee Roasters. The interior was really cool and vibey. The Walper gets their coffee from this cafe, so it must be good! I got yet another matcha latte and it was sooo good. One of the best ones I've had in a while.
A little unrelated, I've been using the app Huji Cam a bit (a lot) for photos to remember the dates of when I took the picture, and I love it! It can sometimes make skin tones pretty orange, so just desat it in another app. The app has effects that you can put on random for light leaks and such, so it makes it fun wondering how it'll turn out.
Not a very crazy post or anything, just wanted to share where we stayed (cause we'd recommend staying there - it's also a beautiful place to have a wedding) and a bit of what we got up to in Kitchener (mainly which cafes we liked because we always look for cool cafes.)
I know, I know, it's kinda random to have a night out in Kitchener, but I was actually born there!
Lemme know what other cities or areas are worth a night away!
x Melissa